We will help coordinate every aspect of your remodel, from design and material selections, to installation of cabinets and countertops, to working with plumbers and electricians. Whether you are updating a bathroom or replacing your entire kitchen, you can trust our remodeling experts to make sure it's done right.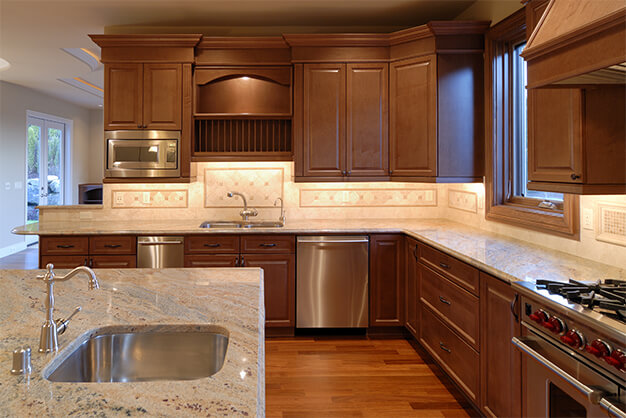 The look of the kitchen is always a top priority of homeowners when planning a kitchen remodel, but the layout is just as important. No matter how beautiful your finished kitchen is, a layout with poor traffic flow or one that's too crowded will leave you disappointed. Our design team understands the complexities of kitchen design and will help you achieve a functional and beautiful kitchen.
A Few Kitchen Design Considerations
Space available - if taking space from an adjacent room isn't an
option, you'll have to optimize the space you have.
Functional layout - plan space for all your kitchen uses, such as a baking center or countertop space for your family to eat breakfast.
Storage - design enough space to stow all your kitchen gadgets and pantry staples, and have frequently used items within easy reach.
Appliances - gotta have a dishwasher, wine cooler and warming
drawer? Plan for them in your kitchen layout.
Budget - remodeling a kitchen can be one of the more expensive
home improvement projects you take on. Know what you can afford.
Design, materials and colors - here's your chance to create a room uniquely yours that you will love being in for many years to come!
Your bathroom remodel is all about you. Your bathroom design needs to be functional, beautiful, safe and able to grow and adapt with you and your family. Planning your space and functional zoning of bathroom features is the key to a timeless bath. Our design experts will step you through the questions of layout, fixtures and material choices for a stress-free bathroom remodel.
Areas & Options to Consider for a Bathroom Remodel
Vanity – sink(s), cabinet storage, mirror and countertop space
Shower & Tub Combo – popular, especially for one bath homes
Standalone Tub – modern tubs are deeper with space for two
Luxury Shower – A growing trend, especially with master bathrooms
Luxury Shower & Tub – common in high end homes, a true spa feel
Toilet – most used feature in any bathroom, make it comfortable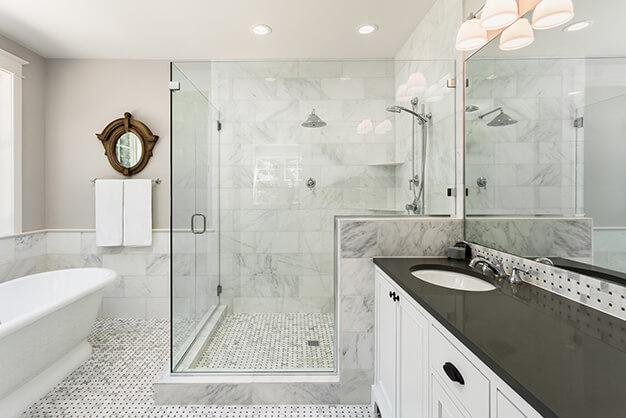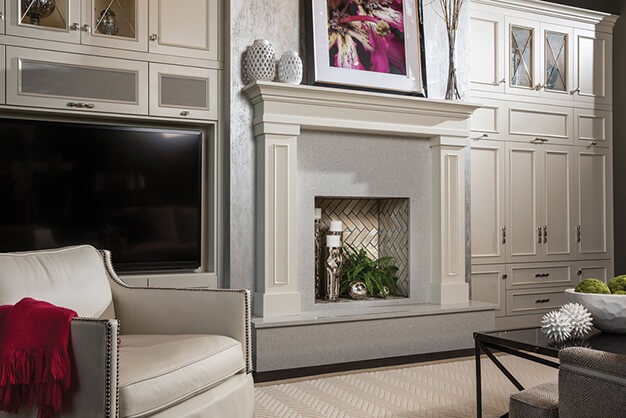 Home Entertainment Cabinetry
Built in cabinets bring organization and refinement to any room. A free-standing cabinet gives you attractive storage with the flexibility to change your room at will. We can design and build a beautiful storage solution for your perfect home entertainment area.
Built-in cabinetry (virtually any configuration)
Free-standing entertainment units
Home theater cabinetry
Custom fireplace surrounds and mantels
Home bar cabinetry and countertops
A well planned laundry room makeover will make your life easier, and the necessary chore of laundry more pleasant. Store your laundry and cleaning supplies neatly away but within easy reach in beautiful cabinets. Add countertop space for folding and a sink for hand-washing those delicate items. You'll soon love your laundry room almost as much as your kitchen.