Choosing the perfect flooring for your bath or kitchen remodel can seem daunting. There are many flooring materials to choose from, each with its own style and color options. We offer two of the the most popular and practical flooring types, luxury vinyl and engineered hardwood, and will help you select the flooring that works best for your lifestyle and budget.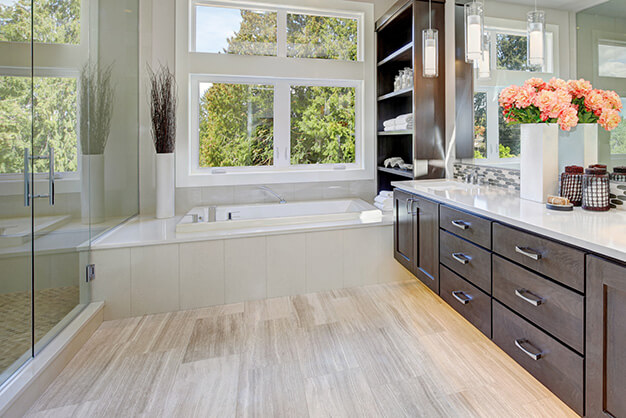 Luxury vinyl flooring is ideal for the highest traffic areas of your home. It is not like traditional sheet vinyl - it is thicker and far more durable, with countless style and color options that mimic all types of tile and wood flooring. Most styles of luxury vinyl are waterproof, making them perfect for bathrooms, busy kitchens, laundry rooms and basements.
Luxury vinyl tile (LVT) flooring is a durable, affordable alternative to ceramic or stone tile, plus it's warmer and softer underfoot. LVT is available in virtually every style and color of stone or ceramic that you can imagine, and custom patterns can be designed. Luxury vinyl tile can be laid with tight joints that are nearly invisible, or can be spaced and grouted just like stone or ceramic tile.
Luxury Vinyl Plank Flooring
Luxury vinyl plank (LVP) flooring is perfect for achieving the look of hardwood floors without the high price tag. Natural wood floors are beautiful, but susceptible to damage from water and even changes in humidity in your home. Durable luxury vinyl plank floors can mimic the look of virtually any wood species and finish. Most styles of LVP are waterproof, making them a great choice for your kitchen, bathroom, laundry room or basement.
Luxury vinyl floors are easy to clean. Sweep or vacuum regularly, and damp mop. Use only mild household cleaner when needed and rinse with clean water to avoid a soapy residue. Do not use abrasive brushes or cleaners - they can scratch or dull the finish. Do not use bleach or bleach-containing products. It's also important to avoid using rubber backed area rugs on your vinyl floors, especially in sunny areas - when it gets warm, the rubber can bond to the vinyl floor and damage the finish. Always check with the manufacturer for approved cleaning products and tips for care and maintenance: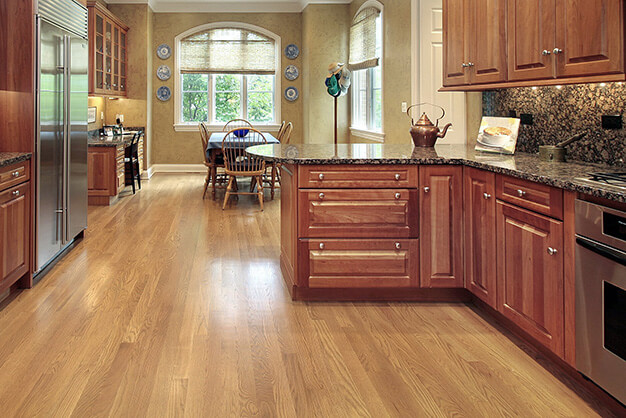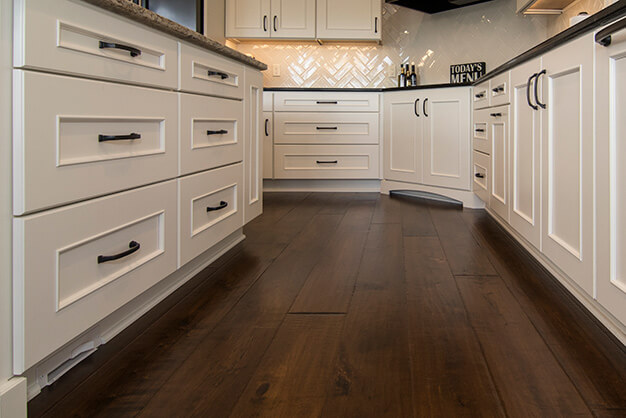 Engineered Hardwood Flooring
The warmth and character of hardwood flooring continues to be popular with homeowners. Solid hardwood flooring is susceptible to damage from water and changes in humidity levels in your home, making it unsuitable for areas like kitchens and bathrooms. Engineered hardwood flooring is made from multiple layers of durable plywood bonded together with adhesives, with a thick top wear layer of your desired wood species. It is more dimensionally stable and less susceptible to moisture than solid hardwood.
Sweep or vacuum regularly using the hard floor setting on your vacuum, and wipe up spills immediately. Don't use a water-based solution to wash or wet mop wood flooring – this could damage the floors. Use a soft cloth with cleaner labeled specifically for hardwood floors. Engineered hardwood floors can be refinished, but not as many times as solid hardwood floors. Consult with the manufacturer for approved cleaning products and tips for care and maintenance: