The bathroom or kitchen backsplash is so much more than a splash guard - it's the crowning touch on a bath or kitchen design. A well-designed backsplash ties together workspaces and showcases your style. Tile is by far the most versatile and popular backsplash material, with countless options for materials, colors and patterns. We'll help you pick tiles you love and then design the perfect backsplash for your kitchen or bath.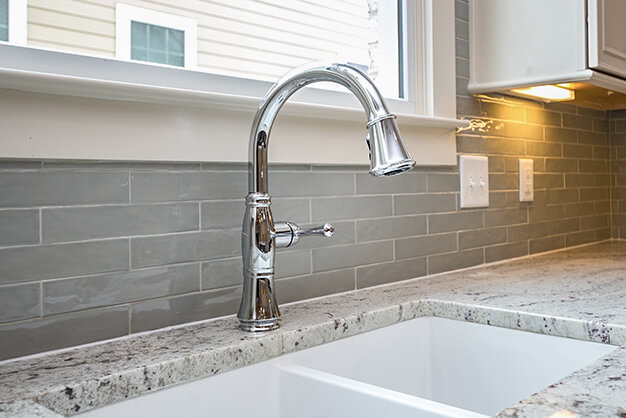 Tile Options for Backsplashes
A backsplash should be a durable and easy to clean surface, but it should also be beautiful! Stop by our showroom to explore our inventory of decorative tile and discover what you love. From traditional ceramic tile to sleek glass tile, to rustic natural stone tile, we'll help you find the right material for your tile backsplash. Your backsplash design can be as unique as you! We can design anything from a classic subway tile pattern using a single type of tile, to a completely custom backsplash design incorporating multiple tile materials and colors.
Backsplashes serve an important function - protecting our walls from messes that accidentally hit our walls. It's important to clean backsplash tile regularly to keep it looking beautiful. Use a dilute solution of mild dish soap and warm water to clean up food splatters, grease and dirt on a tile backsplash, and rinse well to avoid leaving a soapy residue. A paste of baking soda mixed with warm water can help remove stuck on food and clean dirty grout lines.
Natural stone tiles and cement-based grout are porous and should be sealed periodically to avoid staining. Glass tiles, and glazed tiles such as ceramic tile and some porcelain tiles don't require sealing. Epoxy-based grout is non-porous and does not require sealing.